The Quick Version: "Pass it clean in the second reading"
Contact your IN House Rep before Monday, April 12, 2021 with the message:
"Pass SB389 House Committee version clean (with no new amendments) in the April 12 House Environmental Affairs Committee second reading."
The Full Explainer:
There is both good news and bad news on the wetlands bill, SB 389.  The good news is that on April 7 the House Environmental Affairs Committee significantly amended the Senate version of SB 389 to protect most wetlands by adopting Amendment 24.  The bad news is that some wetlands will lose protection.
In further good news, Representative Errington will be offering an amendment on the House floor to replace what's currently in SB 389 with language creating a Wetland Task Force to examine state wetland policy. Sadly, we do not anticipate there will be enough support for this good amendment to pass.
A number of Indiana's strongest conservation organizations have carefully assessed all of the remaining options to try to improve the bill and also carefully gauged the strength of the wetland de-regulation faction of lawmakers at the Statehouse and concluded that, if the Errington Wetlands Task Force amendment fails, the House committee version is the best wetlands language we will be able to get in the 2021 legislative session.
Why would we support a bill that is still bad for wetlands?
Well we don't, but if the House Environmental Affairs Committee version does not pass, we will likely get something much, much worse.  Many legislators (in both the House and Senate) are in favor of seriously weakening state protections of wetlands. At the next step in the process (second reading), either the Senate passed version of SB 389 bill, which repeals the wetlands law, or an amendment like #19, which is very close to a repeal, will become the final bill.  Please see the table below for a detailed comparison of the Senate version, Amendment 19, and the House committee version.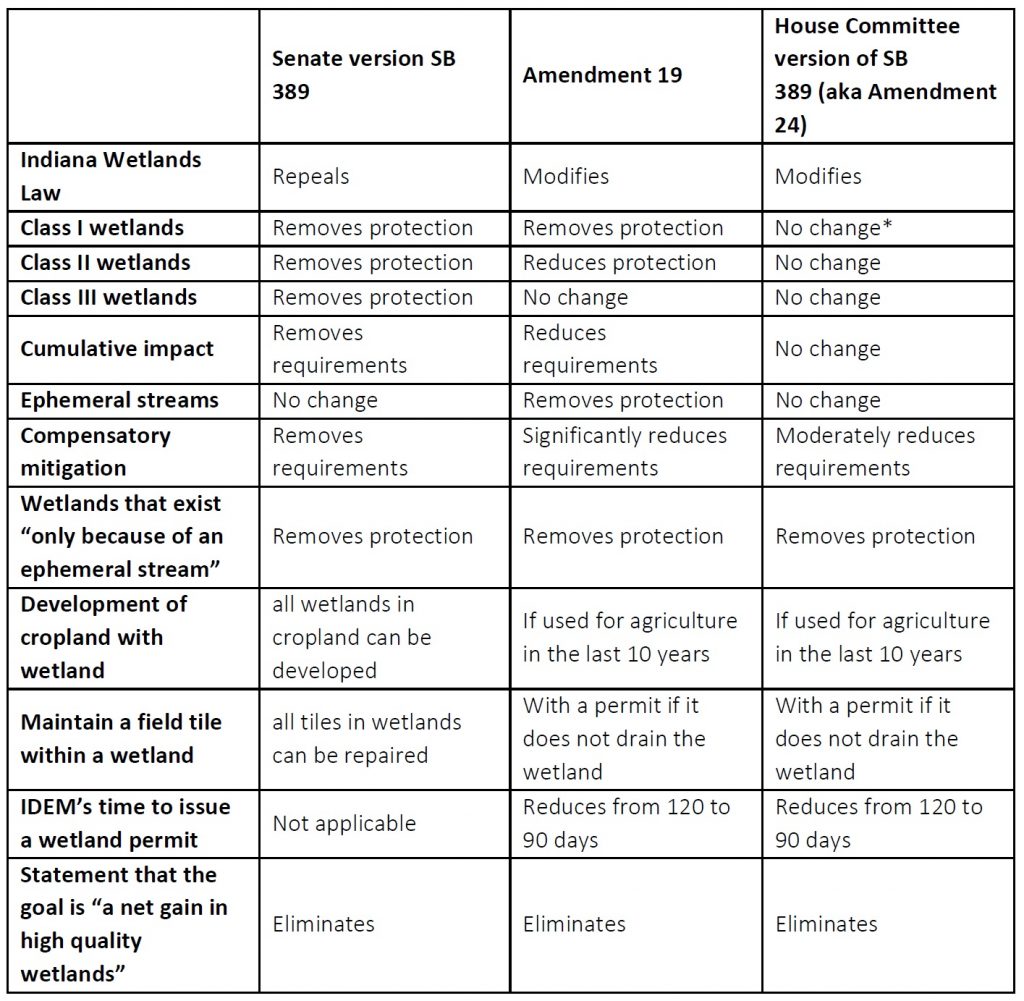 Therefore, the Indiana Wildlife Federation takes the following positions and urges our supporters to contact their state representatives with the following four requests:
1.) Support Representative Errington's amendment to replace SB 389 with a Wetland Task Force.
2.) If the Wetland Task Force amendment fails, support the House Environmental Committee version of SB 389.  The committee version, but no further! Pass it clean, with no amendments in the second reading.
3.) Oppose Amendment 19 to SB 389 or any other anti-wetlands floor amendments. Pass it clean, with no amendments in second reading.
4.) Oppose the Senate version of SB 389 (full repeal).
Reaching your lawmakers about the above four calls-to-action is crucial to making sure that the House Environmental Committee's version of SB 389 survives a House floor vote — and the far more damaging version, Amendment 19 (or its equivalent) — does not replace it.  You can reach your lawmakers by going to bitly.com/INLegis.