FOR IMMEDIATE RELEASE ­­– The Indiana Wildlife Federation (IWF) is pleased to recognize two prominent members of the Indiana General Assembly for their longstanding commitment to conservation and natural resources.
State Representative Carey Hamilton (D-Indianapolis) and State Senator Michael Crider (R-Greenfield) are the recipients of the IWF's annual Conservation Champion award.
This unique honor was established to recognize Indiana lawmakers for their efforts to preserve the state's outdoor heritage for future generations of Hoosiers.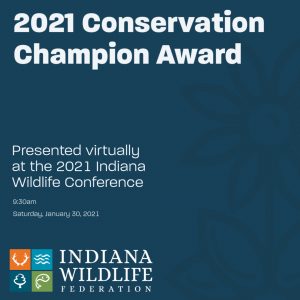 Rep. Hamilton recently spearheaded the launch of a bipartisan Indiana Legislative Trails Caucus tasked with growing and maintaining Indiana's many trails and greenways. She has also been a leader in Indiana's recycling and clean energy efforts.
Sen. Crider, a former conservation officer for the Indiana Department of Natural Resources, has championed efforts at the statehouse to keep our parks and outdoor recreation areas accessible for all Hoosiers.
Both lawmakers have demonstrated a clear commitment to conservation as well as the economic and community benefits that accompany it.
The awards were announced on January 30, 2021 during the IWF's virtual wildlife conference.